Telecom Case Study
RCube Corporate Overview
Company : Rcube
Industry : Telecom Debt collections
Rcube is the Telecom Debt collection company Headquartered in Chennai and dealing with the major Telecom companies, Rcube drive recoveries performance and deliver exceptional service levels built on specific requirements. Having a dedicated team and specialized Customer Field Agents who are accustomed to working with telecoms arrears, segmented balances, and the different debt types:
• Fixed line
• Mobile phone debt
• Internet Service Provider (ISP)
Kyros FSM made a mark on Telecom Industry!
Congratulations to RCube Solutions,a Telecom Debt collections on your Kyros FSM go live. Up and running in just 6 weeks with Kyros Field Service Management including Job Automation and Customer Management.

Special mention to Sri & Jagan for transforming the employee experience for your organization!

Kyros Technologies with a stellar deployment from beginning to end, being a true partner to RCube Solutions.
Challenges to Telecommunications Debt
Collecting telecom debt can be difficult given its unique circumstances. Collecting telecom debt is certainly difficult, but some agencies have developed proactive approaches to garnering a favorable return on investment for their clients while fostering consumer retention. Rcube had no trouble gathering the Customers data they needed to track, while coming to meeting the customers, there is lack of end-end field service visibility. In the legacy system, it is difficult for the Field agents to log the daily reports ,where the use to sit and do the reporting activities, Update reports is critical in the debt collection where we need identity the customers who have paid and non-paid., Without these details Rcube lacked visibility on planning the Agents schedules, which results in low conversion of debts, so company wants a system to track as field agents as well a system which can reduce the reporting activity from the agents.
Solutions to Telecommunications Debt
When evaluating various Field Service Management Software options, Rcube searched for the solution that would fit their business model requirements. This included a system that could handle customer details, outstanding amount, Field agents location and Reporting .Using this Admin can schedule the customer details the field agents with complete details like Address with Geo Mapping, their available time and the complete Outstanding details of the customer, Kyros Field service Management Software fit this model perfectly and Rcube enjoy the benefits of Kyros Field service Management Software.
Field Agents are now logging all information in Kyros Field service Management Mobile application Software including the Customer address and debts details; they're also using the Kyros Field service Management Mobile App to Manage the Activities like Travelling, Breaks, Leaves and Reporting. One of the key components of Kyros Field service Management Software is the report and Dashboard feature. "Kyros Field service Management Software Kyros FSM, you can see all information on your single screen". Reports they are constantly monitoring Include the customers follow-up history, activity of the individual Field Agent and the most importantly revenues.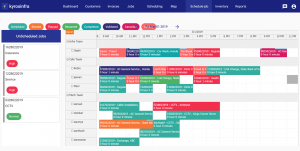 Results
Rcube has seen a major increase in productivity, with their new Kyros Field service Software Kyros FSM system, their Field service team is visiting more customers in a day comparing with their old system. Key benefits are
• Using Field Kyros Service Management FSM Rcube Recover up to 40% more debt
• Field Kyros Service Management FSM Rcube Reduce DSO by up to 20%
• Field Kyros Service Management FSM Rcube Increase agents' productivity by up to 30%. Reduce training from months to hours
• Field Kyros Service Management FSM Rcube Reduce non-pay churn by up to 20%